Dear residents,
Our PHRA is organizing a one-day trip to Tanjung Sepat, a fishermen's village near Banting, on Sun, 29 May 2011. It is a beautiful and delicious food trip good for family outing; with lunch, dinner and transportation included. The cost is only RM135 per person (adult or child) and open to all residents of Taman Puchong Hartamas.
Please come to the playground on Fri, 20 May 2011, 5pm - 8pm, to have the briefing of the trip and meet the PHRA Committees.
If you have any enquiry or wanting to make early booking, please call Ms Foong (019-3367452) or Ms Angela (019-6001132).
More information on Tanjung Sepat brochure is available on the notice board.
Thank you.
PHRA Social Sub-Committee
2011/2012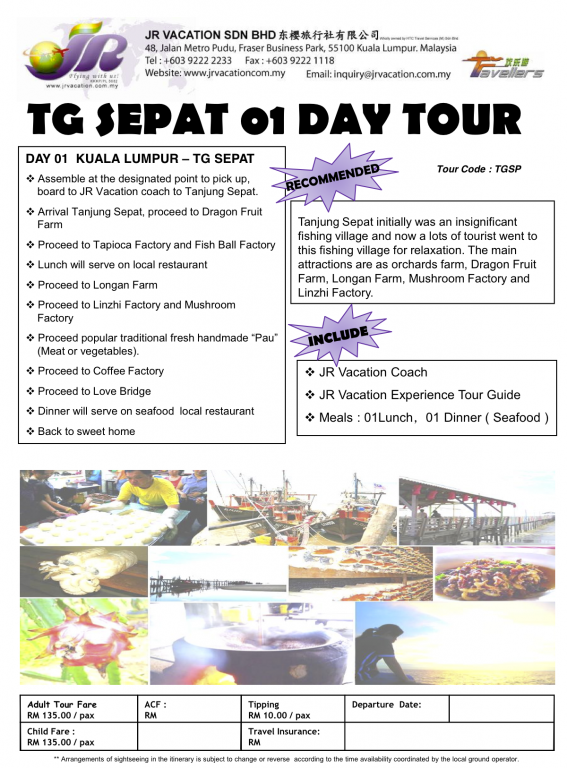 蒲种金山花园居民的丹绒士拔一日游
2011年5月16日
亲爱的居民,
我们的协会正组织一日游到著名的渔民乡村"丹绒士拔"。日期是星期日,2011年5月29日。这是一个美丽又美味的行程包括午餐,晚餐和车费。费用仅是每人(成人或儿童)RM135,只限于蒲种金山花园的居民。
请大家在星期五,5月20日,下午5点到晚上8点,来草场集合。我们有个简报关于这一日游。
如果您有任何疑问或希望提早预订,请致电给Ms Foong(019-3367452)或Ms Angela(019-6001132)。
丹绒士拔详情请观察公告栏。
谢谢。