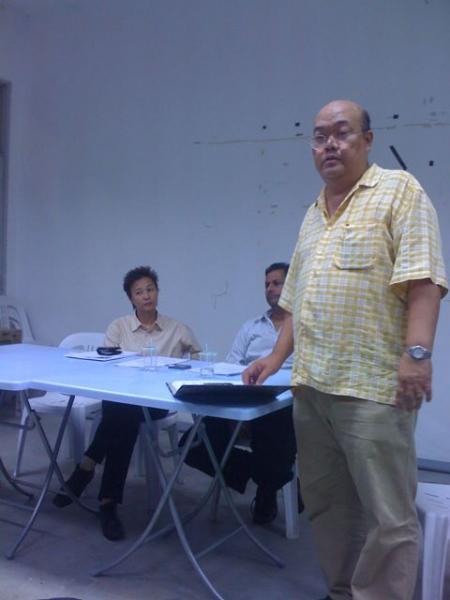 It was a great event yesterday on the dialogue with developer. If you have missed it, here are some information you may find it useful.
Brian video tape the event and if he is free he will upload it to YouTube. It was quite lengthy.
Mr. Cheah our Chairman is the moderator. He single handed manage the entire talks. Not many of us spoke because he basically said all things on behalf of us. :-)
On developer side are Ms Wendy and Mr. Nick. Ms Wendy remind us that one of the reason why guard house legality delayed is due to this place is not built on "gated community". It was a surprise and I could not stop dropping my jaw upon hearing it.
We focused on two topics: Guard House and Accounts. The rest of topic not the main issues, can be discussed after the dialogue.
Developer is helping us to push thru the legality of having the Guard House.
We volunteer to meet Developer this Saturday to go thru the Accounts, and find ways to settle the bad debts that many residents didn't pay for the security guard service.
In our opinions, we still need Developer to continue provide the security guard service before handling the entire management to PHRA. Therefore we advice Developer to continue to send us bill.
On the bad debts, it should be cleared as many residents actually wanted to pay. Leaving the past "dissatisfaction" feeling aside (I don't have any), let's get service moving on and PHRA shall ask Developer to cooperate with us: a. don't send any "saman" for bad debtors as it get it worst; b. retract the "saman" and get back all bad debts; c: PHRA learned to collect the fees and get things done. After all, PHRA will be responsible to do this later. Start the training now!
We still need volunteer especially lawyer. We need people to read legal documents and understand the laws.
The best thing is, after the dialogue, everybody seemed still sticking around didn't feel like going home! That's the spirit for community!
Last but not least... please note that we have e-group setup by our Chairman. The purpose of e-group is to communicate with you via email. This way all latest updates and discussions can reach you on-time. It is open to public.
Visit the e-group here: Residents of Puchong Hartamas
You need a working email address to join the group. Don't use temporary email address which you seldom login to. We need to build up a reliable list of users. You can organize the mail you received into folder or labels so that it won't distract your works.